Hi, I'm Chris Tainui Hutchinson also known as Chippy!
I'm a creative professional from Tāmaki Makaurau Auckland, Aotearoa New Zealand.
I like to create bright, colourful and optimistic graphics full of patterns, hand drawn lettering and cheeky characters.
I've worked on a variety of commercial and personal projects ranging from designing graphics for packaging, event posters and merchandise to painting murals and bespoke artworks for businesses and private collections. I also love to engage in live drawing, hosting workshops and designing public activations.
I hold a Bachelor of Art & Design (Hons) from the Auckland University of Technology and have exhibited my artwork throughout New Zealand and Australia. I currently work independently from a shared studio on Karangahape Road in Auckland.
I'd love to hear from you if you have a product, space or upcoming event that needs some character and a splash of colour!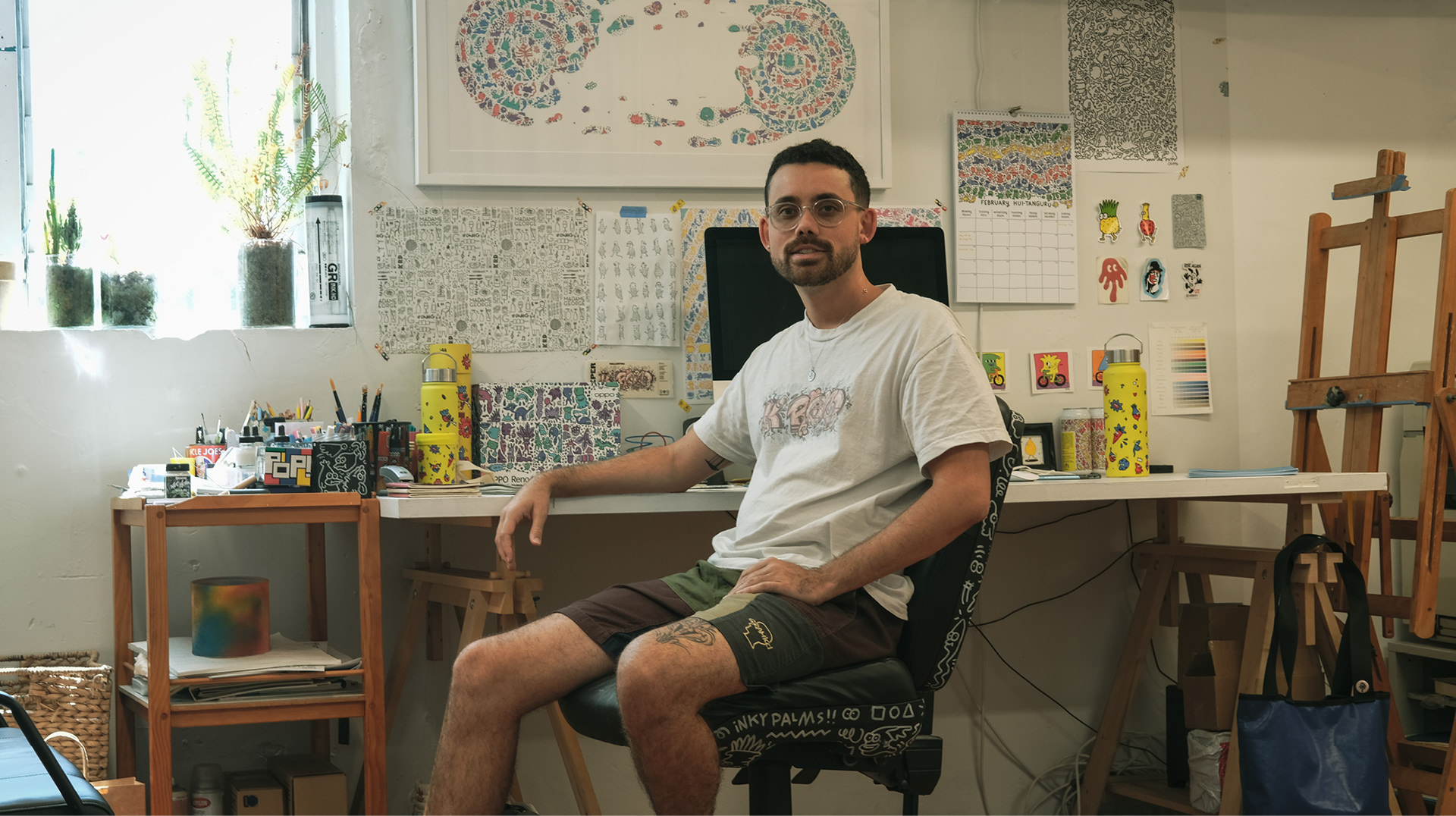 RIPPLES, The Tuesday Club, Auckland 2018
Selected Group Exhibitions
In The Flesh, Monster Valley, Auckland 2020
Pretty Ugly Arcade, Thistle Hall, Wellington 2019
Point Blank, Studio One Toi Tu, Auckland 2019
Distant Isles, Allpress Studio, Auckland 2019
OFFCUT, Comet Project Space, Auckland 2019
Double Scoop, Monster Valley, Auckland 2018
Rocky's Garage, Monster Valley, Auckland 2018
Dead Format II, Junky Comics, Brisbane, 2018
Dead Format II, Satellite Gallery, Melbourne, 2018
Acrylic Air Freshener, Monster Valley, Auckland 2017
Banana Soy Milkshake, Inky Palms, Auckland 2016
Ex Libris, Paper Assassins pop-up, Auckland 2016
Adventure Time Art & Music Show, The Golden Dawn, Auckland 2015
Dirty Laundry, 34 Battersea Street, Christchurch 2015
Beautiful Rectangles, YES Collective Auckland 2015
Paper Assassins, The Biz Dojo, Auckland 2015
The Goods, St Kevins Arcade, Auckland 2015
Tribal Flora & Tragic Fauna, Inky Palms, Auckland 2015
The Joint Show, YES Collective, Auckland 2014
Pick N' Mix, YES Collective, Auckland 2014
Enter the Surreal, The Golden Dawn, Auckland 2014